States: Virginia
Status
I-73 will provide improved connectivity and economic development opportunities in western Virginia. Currently, Virginia is re-evaluating the eventual route of I-73 and has not added this to the state's priority list.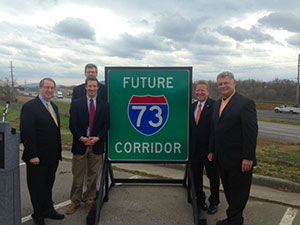 VAI73Now.com | Facebook.com/VAI73now | Virginia DOT I-73 Overview
Virginia Maps
U.S. Senate (Virginia)
U.S. House of Representatives (Virginia)
Click here to find your Congressman.
Virginia Counties
Franklin
Giles
Henry
Montgomery
Roanoke